Equiwax® is a sterile wax derived from beeswax (Ph. Eur.) and is used to mechanically stop bone bleeding during surgical procedures. Equiwax is 70% beeswax, and 30% vaseline. Equiwax is not absorbed, but remains within the body. Equiwax has been gamma sterilized, is soft and kneadable and is ready to use. The products are double packed, double sterile. Heamostasis time with Equiwax is only a few minutes.
Indication
Equiwax can be used in many surgical procedures for example in orthopaedics and traumatology, in thoracic surgery (sternum and ribs), in maxillofacial surgery, in general and plastic surgery and in neurosurgery (trepanation). Heamostasis time with Equiwax is only a few minutes.
Mode of application
It is recommended that the bone wax first be kneaded in the hand to soften it, and then applied to the bone by using a spatula to staunch the bleeding at the bone. Care should be taken to use as small a quantity as possible, as otherwise regeneration of the bone can be adversely affected.
Haemostatic Mechanism
Equiwax does not possess any intrinsic pharmacological properties. Equiwax is used to mechanically stop bone bleeding by occlusion of intraosseous vessels.
Contra-Indication
Bone wax must not be applied to infected areas.
Warning
Warning: Bone wax delays regeneration of bone and can cause foreign body and inflammatory reactions.
Keep dry Sterile Use only once Store under 25ºC Do not use when package has been opened or has been damaged.
Types of Equiwax Packs
Bone wax
Sterile
Block of bone wax
Suitable for all types of surgery.
70% bees wax; 30% vasline
Shelf life 5 years from production
Fast haemostatic effect (2 to 4 minutes)
Equiwax is a sterile bone wax, derived from bees wax, and is used to stop mechanically bleedings from bone during surgical interventions, by obstruction of the glood vessel in the bone. Equiwax has no intrinsic farmacological properties.
Equiwax is indicated for for instance orthopedic surgery, traumatology, thoracic surgery, maxillo-facial surgery and neurosurgery.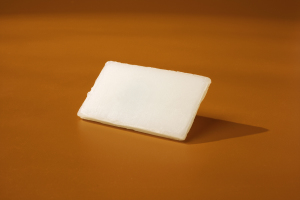 Equiwax Normal
20x
2,5 gram